DEMO DAY 2022 for INVESTORS & FOUNDERS
Organized by Autopilot Leadership Lab x ASIA CEO COMMUNITY x Csuite Xchange x C-Suite Magazine The Demo Day is an intimate event for accredited and active investors to have real conversations with business founders. The Demo Day is open for international members of the Autopilot Community (AP community) and Asia CEO Community.
Competition details
Date: 31st May, 2022 (Online)
Time: 2:00 pm – 5:00 pm
Language: Cantonese/English
Who can apply: Autopilot Leadership Lab Community members or members of Asia CEO Community
What are you competing for: All successful applications will receive a Certification of Participation.
Finalist Judging Criteria: The finalist list will be determined by the competition Judge Panel .
Top 5 winning teams will receive a prize and opportunity to enter the Autopilot Leadership Journey by Autopilot Leadership Lab, subject to further selection process.
APPLICATION PROCESS
Fill in online application form at ASIA CEO COMMUNITY's Website
Timeline
Winning team
Winning team will be entitled* 80 hours of structured and dedicated consulting time by Autopilot Leadership Lab, delivered over 24 months:
Kick-off the new year by grasping the hottest ESG trends in Hong Kong! ALLab would like to present our upcoming interactive webinar: Recent ESG trends in Hong Kong.
Register now at: https://member.allab.com/esg-trend-2023-AP-community-exclusive/
Interactive Webinar Details:
Event: Recent ESG Trends in Hong Kong
Date: 9 Jan 2023 (Mon)
Time: 2:00pm – 3:30pm (Hong Kong time)
Format: Zoom
Keynote Speaker:
Dr. William Yu – CEO of World Green Organization
Dr. Jowie Yu – General Manager of Autopilot Leadership Lab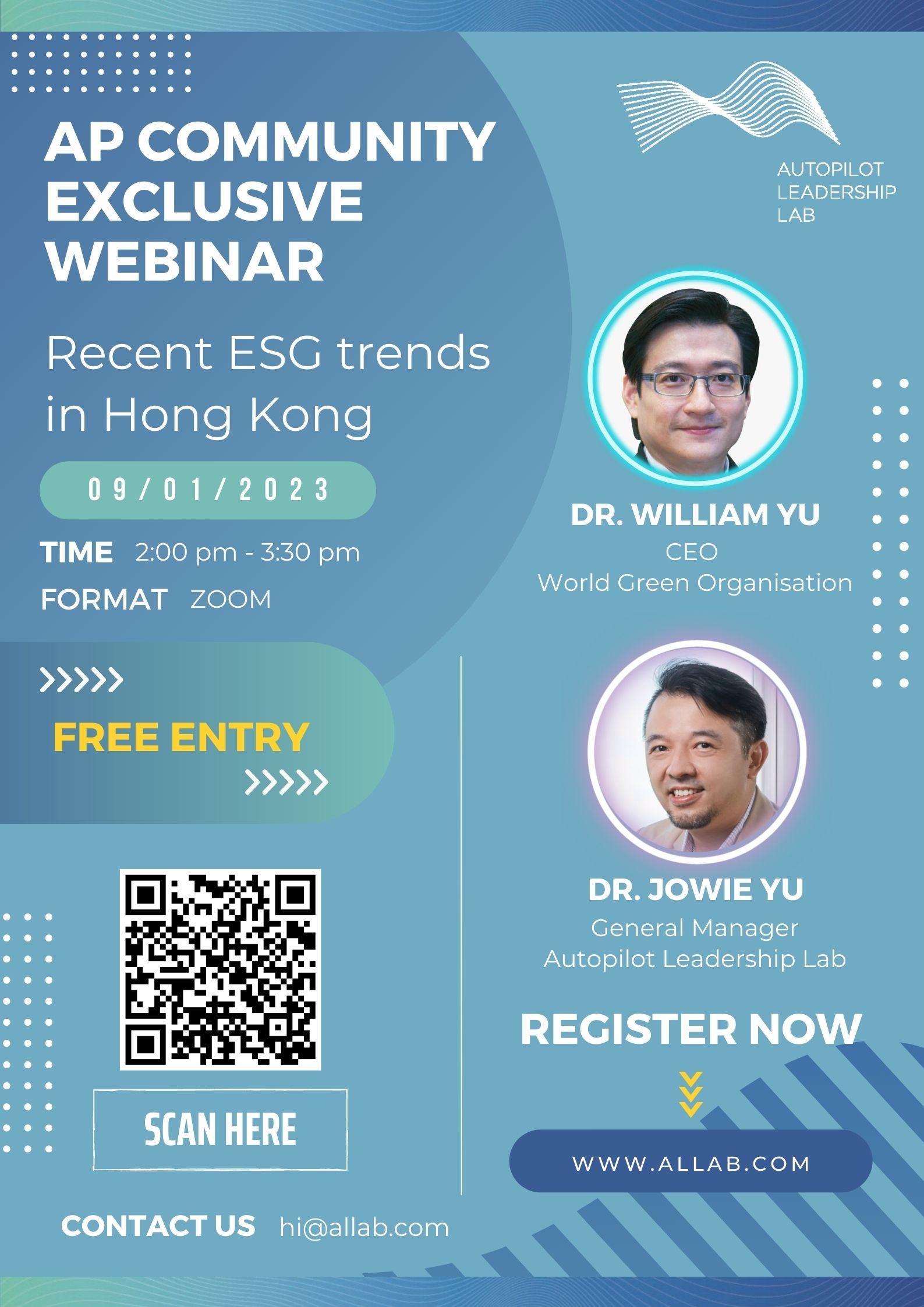 *Terms and condition applies.
SPONSORS

Meet our Judges & Honorary guests